Stone Age Institute
Education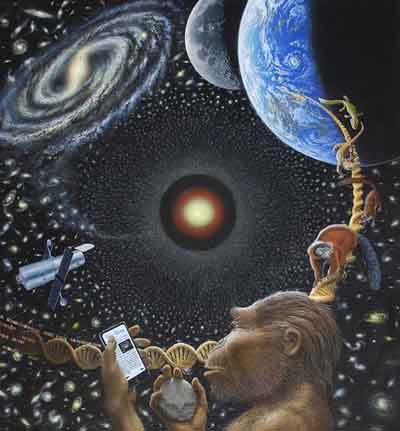 "FROM THE BIG BANG TO THE WORLD WIDE WEB™"
Copyright 2011, THE STONE AGE INSTITUTE®. All rights reserved.
Painting by artist John Agnew, commissioned by The Stone Age Institute.
Enhancing broad public knowledge and understanding of scientific concepts and research through science education is a vital component of the Stone Age Institute's mission. Through public outreach programs, the Stone Age Institute has been actively involved with educating the general public about a wide range of scientific fields, particularly those pertaining to human origins. The Stone Age Institute not only supports student research, but organizes and sponsors numerous public symposia and lectures as well.
Select from the menu on the left to learn more about some of the Stone Age Institute's educational projects.